Mid-pandemic, a friend sends me his new favourite album. I desperately want to listen to it—to use this time to absorb new art, new music, and all the books and shows I haven't gotten around to yet. But I can't.  My eternal excuse is that I'm unable to find space for anything new, anything that I don't know like the back of my hand. It makes sense that we retreat to what is familiar (art) in times of crisis. When everything we know to be true has come crumbling down, we reread, rewatch, and re-listen to re-orient ourselves. Yet, on video calls with friends, I often declare,  I need Lorde to release another album now, it's been too long and I am met with equally frustrated longing and agreement. Lorde is how we process things, we say, laughing. We joke often as we yearn for new music, I think she puts drugs in her songs.
Lorde came to the scene at sixteen. I'm always struck by the unfailing honesty of her first album, Pure Heroine (2013). In a world that asks girls to grow up too quickly and simultaneously punishes them for it, Lorde's songs acknowledge the twinging pain of adolescence. Of being old enough to know how shitty things are, but too young to do anything about it. Lines like, I feel grown up with you in your car/ I know it's dumb foreground the tiny joys and insecurities of being young and alive and the ineffable things about growing up and surviving. When she declares I'll find my own bravado In a song about living within the discomfort of ambition and attention, it's hard not to be utterly awed by the incredible coolness, awareness, and self-assured vulnerability of a 16-year old artist. In aiming to capture a post-internet youth culture that is consumed with the act of "showing people how little we care,"  Pure Heroine cemented Lorde as a defining voice that made this youth care about what she had to say. 
The cover of Melodrama (2019), her second studio album,  is an oil painting of Lorde, languishing in bed, looking straight at you. The cover comes across as a portrait from her song: The Louvre. Here she fantasizes about being memorialized with her lover: "But we're the greatest/They'll hang us in the Louvre." It's a little phantom-like, with strange, beautiful colours and eerie, pronounced shadows. Lorde's coming of age (quite literally too; she made Melodrama when she was twenty-one) is incredibly sincere and comfortable with the perils of young womanhood. It comes in the form of a concept album that traces the trajectory of a house party, of dancing, of finding yourself drunk and alone and upset, of ending the night happily despite all odds. And the most terrifying part of it all: the next morning.
When Lorde releases new music, it feels like she and I are growing into ourselves together; separated by continents and so much more, but somehow part of the same experience, somehow sharing similar secrets. And perhaps that's the cultural appeal of her music—a universality within the specific relationships people have with her songs. A rare solidarity in the shared emotions they invoke. So when we say, I need new music from Lorde, perhaps we're really saying, I need something to show me how I've grown and how to keep going. 
I'm not the only one exaggerating my need for Lorde to put out more music and hear what she has to say. Twitter User @DidLorde (whose display name reads "did Lorde release a new album today") dedicates their account entirely to non-updates about Lorde's new album. Their tweets read
 "Lorde did not release a new album today because she's trying to set a new hiatus record" 
and
 "i just woke up and found out that Lorde did not release a new album today
This account has thirty-six thousand followers; thirty-six thousand people follow an account that, every day, puts out a despairing tweet about the non-emergence of Lorde's third album. At the same time, it's kind of hilarious that while we're desperate and thirsty for the tiniest hint that new music's coming our way, Ella Yellich O'Connor lives like a cottagecore princess. She dances with her girlfriends, grows her own cucumbers, and lives off the grid. She's inactive on social media with the exception of her onion ring review account and her deeply irregular newsletter. She's a cool girl, she's a madwoman and those two truths coexist in her discography in a way that they are not allowed to in a world like ours.  Not now anyway. 
The pandemic makes me more prone to tears than usual. My first few days back home in the second wave are punctuated by crying jags every fifteen minutes, without ever knowing what was causing them. All I could do is put on a comfort album, sway in my pyjamas and eat peanut butter straight out of the jar. I find that I'm aching for a collective loneliness— the kind of night when we're all drunk and discussing things we wouldn't dare say aloud in daylight, empowered by the world we've made with the lights, the company, and the perfect playlist— helping each other sort through our piles and piles of feelings. I miss that catharsis, and I find that while listening to Lorde it becomes accessible to me again in different ways. The overwhelming-ness of these times makes it hard to process anything, and frankly, it's far easier not to. In the song "Buzzcut Season", Lorde sings in a pre-chorus, explosions on TV/ and all the girls with heads inside a dream. Lately, I feel bad for doing anything that isn't mourning. I make my room pretty, put up pictures and fairy lights and try to write my finals without doom scrolling endlessly. I joke that all I do is listen to Sad Girl Music and rot in my bedroom. I mention the rotting in jest, but for most of the women I know, the sad girl music actually helps. 
The magic of Lorde's music doesn't lie in providing solutions but in its ability to assure the world that it's okay to feel hopeless, to idle in a musty room. There's a kind of comfort in having an artist who's unfathomably glamorous while also being uncomfortably and uncannily sensitive to the world she inhabits. Lorde's horde of witchy, sad, angry, self-identified crazy women proves to people everywhere that women who talk about their experiences are cool, that girls who tell their stories create a balm for the unnameable anguishes we suffer, for the things we cannot put language to yet. It tells girls like me that being sentimental, being a walking, talking shitstorm of feelings and thoughts and poems that make boys uncomfortable is a good thing. Bet you rue the day you kissed a writer in the dark, but no matter what, she keeps writing, she keeps saying this is my story too, and I get to tell it. I write poems about missing my friends and lovers and everything that I can't see right now, and I have the urge to apologize— to say sorry for all my feelings, sorry for telling you I have them. It makes it easier when, without thinking twice, it's the kind of night Lorde is on shuffle in my bedroom. 
The loneliness of last year hangs in the air even when we're on video calls. Someone on the internet suggests a new version of the Bechdel test, which you fail if you mention the pandemic. I fail it every day. Early on in the crisis,  a friend said that she'd forgotten what it meant to Be A Woman— that leaving the house to buy cigarettes was a rude shock. It was surprising that a world that seemed like it was losing all control, all normalcy, still treated her like something to look at, to devour. Her realization made me feel strangely empty in my body. Audrey Wollen has an art piece that reads
 "BEWARE MALE ARTISTS MAKING ARTWORK ABOUT EMPTINESS", "GIRLS OWN THE VOID" and "NOTHING DOES NOT BELONG TO YOU".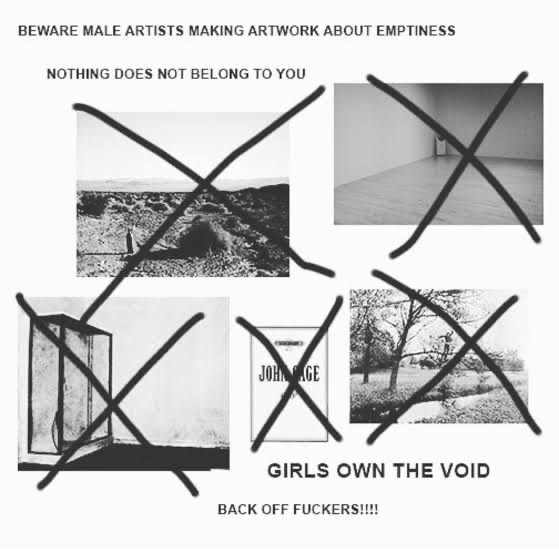 Wollen's piece has always resonated with me deeply. In lockdown, I often think of how women like us have dealt with loneliness for a long time. It's a double-loneliness now— the loneliness of being a woman, the loneliness of not seeing the women you trust, and of not being seen by them. The girls in my life already know what it feels like to be cloistered in this way. We've found our favourite sleeping positions, the right pillows to make our bodies feel still enough to rest. For now, I am trying to be alone with myself without wanting to be somewhere else. I'm seeking comfort in silence and the little things, without giving in to the chaotic expectations in my head. 
When I say I miss parties, I mean I miss the thrill of what Lorde calls holy sick divine nights and relating to lyrics like but when we're dancing I'm alright. Slowly, I'm learning how to enjoy dancing alone, late at night, after everyone in my house is asleep and my room is finally my own. I learn to spend time with myself like I would with a lover and we slow dance in the living room/ and all that a stranger would see/ is one girl swaying alone stroking her cheek. I learn to make space for myself within the messiness of the world. I worry that the pandemic is eating away at my youth and sometimes when Lorde sings what the fuck are perfect places anyway, I almost believe that my youth is mine, despite it not resembling what it should. She says I'm not in the swing of things, but what I really mean is, I'm not in the swing of things yet and I am almost convinced that a time will come when I'll be good at coping, or when I won't have to cope anymore. 
I listen to Lorde when my insides feel like a strange mix of sadness, strangeness, and emotional growing pains. Being a woman means aching inside sometimes, but also in knowing you must. Aching is how we get places; it's how we find our way through life's mazes and brambles to some sort of a clearing. Incessantly existing in some state of dull, almost normalized pain, so one day we can all be that woman who can put off albums for years, despite the world's demands. Someone who can live off the grid, away from social media, laugh with friends and remain unperturbed by everything holding her down. It's a nice fantasy. When Lorde says we told you this was melodrama, I hear it's fine if you cry more than you sleep. 
Gender performance theory has always been somewhat comforting to me, if in a deeply contorted way. Womanhood is a sham anyway. If we're performing, we may as well put on a show. It makes us feel better than we would have felt if we played our roles like they were scripted. There's something about the urge to be a feminist, about becoming a strong woman that, for the longest time, made me think I couldn't also be emotional. That my feelings and my thoughts were silly and irrational and idiotic.  Unlearning that has been a process I'm incredibly grateful for. We're dancing in this world alone and the only thing that cures the kind of loneliness that can't be named is being seen. I'm lucky for all the women who see me clearly, the ones who sit with me and listen and laugh and cry, and the ones who blast from the speakers, late into the night. 
Note from the author: Lorde's highly-anticipated comeback single, 'Solar Power' dropped last night. I'd childishly like to believe my article manifested it.
Yamini Krishnan is a graduating student of English and Creative Writing at Ashoka University. She enjoys writing poetry and culture pieces. Her writing has been published in Vayavya Magazine and Scroll.in amongst others.