When Rock Rolled up to British Shores
As I turned sixteen (1963), my mother organised a birthday party on my behalf that was to instigate new aspirations and deeply diversify my future interests. She set up a telephone call to the Manager of the hottest club for live contemporary music in town—the Marquee, in Soho—with a request to supply a band for a teenage gathering at our London home (a John Nash Regency residence, leased temporarily from the Crown Properties, on the fringes of Regent's Park).
The bookings manager duly arrived to review the venue. He confirmed the qualification of one particular room large enough to accept his ensemble, and the arrangements were concluded. The cost was to be One Hundred Pounds Sterling. For this remuneration—a paltry sum nowadays, but a decent return at the time—would appear the complete resident Marquee-Club band: Cyril Davies and his All Stars; their guest lead singer, who happened to be the finest freelance-sessions white soul singer in Britain, of that period (a young man known as Long John Baldry, for his exceptional height); an accompanying trio of female backing-singers of Caribbean extraction (mirroring Detroit's Motown 'Supremes', 'Marvellettes' or 'Vandellas'), and a full stack of high-volume speakers and amplifiers.
As they launched energetically into their distinguished set of rhythm-and-blues cover-versions, filling the room with a gloriously deafening collection of current standard numbers, purloined from the creative guitar-strings of the U.S. Afro-American, mainly Chicago-based, electric-blues artists of the day: songs such as 'Smokestack Lightning', 'Keys to the Highway', 'Baby Please Don't Go', 'King-Bee', 'Little by Little', etc, we—like the nose-picking, puppy-fatted, shyly-paranoid schoolkids that we were—stood rooted to the spot, in complete awe of the magnificent storm of sound confronting us.
Examples of this music had already begun to filter through to us over the airwaves, via Radio Luxembourg, and later, our offshore pirate radio stations, who were sufficiently forward-thinking to have understood how rock music was fast becoming a tidal wave that would soon be impossible to resist. (The BBC were too conventionally Caucasian to be inclined to promote the style—regarded by certain stuffed-shirts as being the "…music of the Devil"—unless it was selling well, and therefore, chart-based, at the hands of the Rolling Stones, the Animals, the Yardbirds, John Mayall's Bluesbreakers, the Pretty Things, with, to a degree, even The Beatles, as well as numerous other bands. For the most part, however, they would be more inclined to continue distributing the music of Helen Shapiro, Frankie Vaughan, Marty Wilde, Tommy Steele, or Cliff Richard and the Shadows, with their well-diluted interpretations of rhythms that can only be considered to have once-upon-a-time emerged from the African Continent.) Transistor radios were new, and accessible in price, and popular music had conquered British youth, to install itself as our primary interest.
So it wasn't a total unfamiliarity with the genre that turned us all to stone. It was the brand-new event of experiencing it at a proximity and decibel-level that carried it bursting into our youthful streams of consciousness, to remain clinging forever to our psyches like an incurable gilt-edged virus of audible enchantment.
I can't speak for my guests, obviously, but in my own case I felt that I'd instantly became a part of a revolutionary musical movement that offered power to any individual who believed in the torrid sensuality of its tenets and dogma. I wanted it for myself. It became my idol.
The sound formed a new backdrop to romantic inclinations that ideally represented a definition of the imported and revised social mores that were sweeping the country. Transistor radios were the cellphones and vinyl long-playing records the international barrier-challengers (as is now the Internet) of the epoch, and armed those who subscribed thereby with a feeling of confidence, well-being, and, of course, rebelliousness against the status quo—which is eternally a part of the youthful quest for an Utopia.
It preached freedoms for promiscuity; to young ladies uncovering the liberating effects of therapeutic birth-control was precisely the journey of discovery they sought.
So we were soon having sex while listening to Muddy Waters, Chuck Berry, or Lightning Hopkins, all of whom supplied you with the impression that you were doing it right: way down and dirty.
Forays into the Industry, and Nights at Albert Hall
Back at school we formed an electric band, for whom I played lead guitar, having already dabbled since the age of thirteen in the unearthing of the pop and blues idioms on a tinny, battery-operated instrument offered to me by my parents. (It was soft and unimpressive, but anything louder and I'd have been banned from practising in my boarder's bedroom.) Before long, we were not only headlining at school concerts, but were playing—with due permission from school monitors—at gentle local venues, to triple-figure audiences. Then, E.M.I.—the largest national record-company—stepped in, erroneously sensing a possible killing, and in due course, "The College Boys" were appearing live on radio, and recording our first and only 45 r.p.m. at the celebrated Abbey Road studios. To my disgust, the route enforced on us all by certain members of the band was a BBC radio-tailored production-choice title, instead of the earthy, bent notes of major-to-minor ambiguous blues protestations and a driving beat, in line with the emergent fashion.
I remember sitting in shock as a tabloid journalist addressed us one-at-a-time for our comments regarding our individual future intentions, and as the four other band members narrated their hopes—becoming lawyers, bankers, stockbrokers or chartered accountants, following further studies—I myself, who had already been offered a place at Oxford University, attempted to calculate how best I could escape from his morbid list and become a bona fide R&B performer, without over-offending either my fellow-artists in the band (or worse, my parents).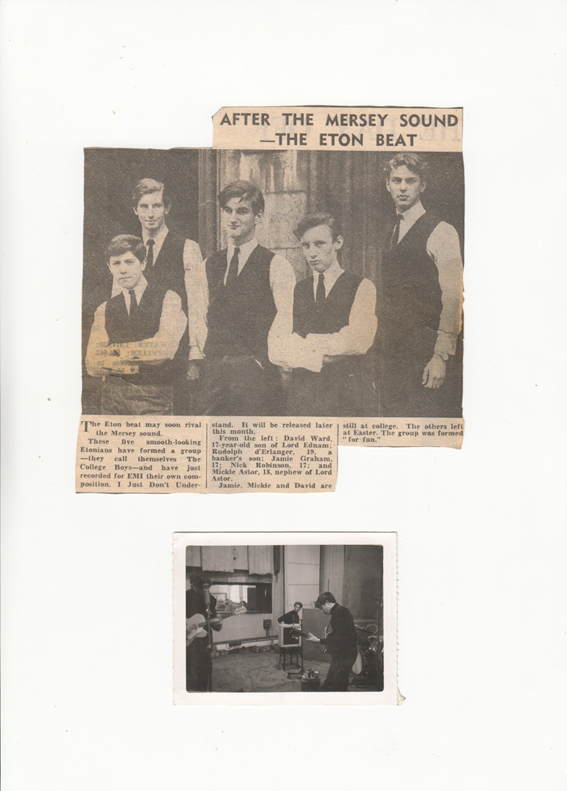 I failed to manifest a viable alternative and duly enrolled in Christchurch College, Oxford, in 1965.
When returning to London, while avoiding my grey-tinted Uni studies of politics, philosophy and economics, and being ensconced with a divinely pretty, alluring, and liberal-minded, blonde girlfriend—whom I later persuaded to marry me—music was becoming increasingly relevant, both to myself and to my closest posse of friends. In the mid-sixties, Britain enjoyed the exclusive role as prime foreign venue for Black artists. Back then, insanely, no self-respecting U.S. adolescent paid much attention to the likes of Booker T., Marvin Gaye, Wilson Pickett, Joe Tex, Percy Sledge, Eddie Floyd, Otis Redding, or the complete Motown or Stax communities, on purely racist grounds. In Britain, we regarded these artists as the coolest guys on the planet, and soul music as the next step in the evolution of style. Sure, we had our flirtations with Folk and Folk-Rock, as did the Americans. As these performers were mostly white, no prejudices in their regard existed across the pond. But the truly memorable artists and bands of the day—Aretha Franklin, Diana Ross, The Four Tops, The Isley Brothers, Stevie Wonder, Smokey Robinson, Sam & Dave, The Temptations, Arthur Conley, Ike and Tina Turner—were all obliged to travel to a nation where the local musicians and bands were honour-bound to make them welcome, having covered so many of their oeuvres with successful sales returns; with plagiarisms that, through cooperative friendship, would soon convert to an exchange of ideas.
Strangely enough (considering its past history of orchestras, choirs and Proms) the Royal Albert Hall featured as the prime venue for many of these visiting idols. Early on, it was Motown's Four Tops—with the classic Detroit songwriter material of those maestros, Holland-Dozier-Holland, who captured my attention enough to attend their renditions there—along with the successive folkier home-grown sounds of hippiedom: The Incredible String Band, Donovan, or pre-glam rock T-Rex.
One of our group of music-aficionado friends was blessed with real virtuoso and poetic talent—Nick Drake, who was soon contracted by Island and its offshoot, Chrysalis Records into making his own LP's and evolving, albeit temporarily, due to his youthful demise, into a posthumous legend.
But, consequent to the birthday blow-away I'd been fortunate enough to witness, the next major milestone in my experiences of contemporary sounds occurred at an even less likely auditorium than that red-brick, Victorian Kensington dome, which instead was a training-hall for boxers in London's East End—Billy Walker's Uppercut Club.
The poster for this concert appears near the beginning of this YouTube clip, which I myself placed there a few years ago, it being one of my songwriting compositions. My one-time association with Nick Drake also gets a mention in the same song.
The hall, which had obviously been vacated of training-rings, was all on one level and contained perhaps 10% of the number of spectators it would have been capable of accommodating. So movement inside was free and spacious, and, naturally enough, my male companion and I parked ourselves in a wide gap at the front, in between the small groups and individuals that spattered the floor-space. Booker T. and the Memphis Horns were playing a warm-up instrumental as we arrived.
As the poster in the YouTube clip indicates, Otis was not alone. He was preceded by sets from Conley, followed by Sam & Dave. I have been to performances where the artists are so well-known that the crowd, on departure, are warbling the melodies, word-perfect, on exit. But this was the dawning of a new musical age, that few in Britain had grasped as yet. The majority of our public had hardly been given an introduction. It was Redding's first and only British tour (he would die in a plane crash in the U.S., later that same year), and, despite the fact the Beatles had sent their limos to collect the Stax crew at London Heathrow, publicity exposure remained limited. "All the more for us!!!", as a greedy gourmet might declare! Imagine obtaining similar access to proximity with a Robbie Williams or a Coldplay, at one of their concerts—impossible. But there was the man whom I would consider the finest male vocalist of all time, literally free for me to walk up towards and offer a handshake. Mad, but true. Not that I would have wanted to stem the flow of a performance that oozed emotion, confidence and natural technique at every stride he took across the open space fronting the musicians. There, also, was Steve Cropper (one of my all-time favourite electric-guitarists), delivering his cadences in hammered-on fifths, to adorn the pulsating organ phrases of his Afro-American bandleader. Perfect racial harmony in music, from the finest mixed-race collection of musicians ever to make foot-tapping irresistible.
Jimi's First London Gig
Those of you who are already envious after reading the above narrative should ease the weight off their feet and the scepticism out of their hearts before approaching the next step of my tale sitting-down. Because JIMI HENDRIX played his first live London gig right before my eyes! At least, that's what it felt like. Herewith the story:-
My girlfriend's first cousin was a photographer by trade, though he was currently working on the staff of a programme for a commercial television channel. Hendrix's first single "Hey Joe" had just come on general release and was climbing the charts, but, apart from a short solo appearance on the small screen, he had yet to take his new band—'The Experience'—live on stage.
The phone rang in the S.W.1. flat that I shared with my lady-friend. It was her cousin, Alex, who explained that he had been supplied with the valuable information relating how, that very evening, it was anticipated that Jimi and his band would appear live for the first time, in a miniscule, darkened, dive on Whitehorse Street in Mayfair, London, called the Seven-And-A-Half Club (God knows why it was so-named).
So the three of us slipped down there at the appointed hour, where we found the great man filling the stamp-sized dance-floor, next to a massive amplifier, with his drum and bass-players behind him, nearer the rear wall.
It must be assumed that "Le Tout Londres", in terms of rock musicians, were in attendance—other than those bands who might have been away on tour, such as the Stones, at the time. But, doubtless not wishing to appear over-eager, as potential competitors of this new sensation, the known stars hung back in the shadowy corners, where they were less likely to be identified. And the club was half-full. So, yet again, it required no effort for yours truly to plant himself, alone—unaccompanied even by his evenings' companions— just a few feet from Hendrix's flashing fingers. My aim was to be close enough to lift some tips from the horse's mouth. So I stood, in isolation, directly in front of this star attraction, while his hands raced up and down the fret-board, treating his instrument with the nonchalance attributable to some plastic knick-knack.
Needless to say, I lost track of how to play his speeding musical phrases before a single minute had elapsed.
He never looked at me once, but I later realised—after further contact, and viewing his subsequent sold out concerts —that this was the result of shyness, as opposed to contempt for other, lesser, musical mortals. Hendrix was courteous, charming, truthful and the finest fanny-magnet you'd ever care to meet. And, as a brother, in both senses, I'd have been more than proud to have accepted him as one of my own diverse milieu instantly, had I been graced with the nerve.
Of Clubs and Overdubs
The late fifties saw the creation of the discotheque. I was sixteen when my father generously handed me twenty pounds to invite a young lady-friend dancing, to a night-club of which he had been selected as a potential founder-member. The club was called the "Ad Lib", near Leicester Square, and was the favourite haunt of the young and famous. The girl was a ravishing Argentine beauty of my own age, called Maria-Elena Lanusse, who was over on a visit to Europe, just months after I had first met her over a Christmas holidays trip to Argentina to visit my Grandparents, and become totally smitten by her beauty.
The problem was she had never frequented Biba's, Carnaby Street or the Kensington Antique Market to gather some trendy clobber. So she presented herself for the evening's outing in a macrame shawl, for goodness's sake! Not that I minded a whit. I was far too besotted by her dazzling looks. But she herself may have become a little disconcerted by the odd disapproving look from those less-well physically-appointed young women in the club with a jealous axe to grind.
No matter—the evening was a cultural triumph. We danced with Ringo and Maureen on one side, Paul and Jane on the other, and Donovan Leitch bringing up the reserves. But this was quite normal for London at that time. You'd bump into Roger Daltry or Keith Moon from "The Who " at the Speakeasy; Eric Burdon and Georgie Fame would do guest spots at the Scotch of St. James, while George Harrison sat watching from the sidelines. At parties, you might be chatting to a friend and discover you had accidentally trapped Jagger's long locks under your buttocks, while leaning on the back of a sofa, and would receive a courteous apology from the same as he tried to rise and dislodge them—as if it was his fault!? Francoise Hardy, Jane Birkin, or Vanessa Redgrave might share your bench or table. My place at the opening of the Hard Rock Café put me next to the most beautiful model ever to light up the pages of Harper's or Vogue—Jean Shrimpton, who did me the honour of stealing my cigarettes, one-by-one. I'd have had an articulated truck deliver her a container-load of cartons outside, had I known!
And that night, at the Ad Lib, one of my all-time heroes appeared suddenly from the crowd and treated us to a spectacular impromptu free concert of his own compositions on acoustic guitar, as we listened spellbound. It was Antônio-Carlos Jobim—writer of the greatest Brazilian songs ever recorded. An event that had never occurred at the club previously, or since. Absolute magic.
As for my own music—in the late sixties, a record-producer lived on the same floor. I had been at Uni with his girlfriend and she and I were friends. My musician partner-in-crime and I were invited to stay with them on the Island of Bermuda, where he owned a small studio. We laid down some tracks, and they were soon spotted by another, later, guest at the property: a Mr. Alexis Korner—fabulous "white" blues singer and guitarist, Radio Luxembourg D.J., a regular choice for commercial voice-overs on the goggle-box, and owner of his own Soho club. Indeed, he was a close friend of several members of the Stones, and, it may be claimed, was solely instrumental in bringing them all together as a band, by first introducing Mick to Brian Jones. One of the nicest, most talented men it has ever been my pleasure to spend time with. And I don't write that in deference to him picking up and including four of my first R&B compositions on his next album at that very moment—my introductory step into professional songwriting.
Epilogue
The Festival held on the Isle of Wight, starring Bob Dylan and "The Band", more or less summed up and brought to a close the great popular music of the sixties. In the following decade, performing was more about the platform shoes and the flared trousers you wore than the notes you played. Nick Drake, my girlfriend  and I shared a caravan for the event. It was chaotic, and Dylan was an hour late in starting, but it was the only time I had the good fortune to hear him live (you couldn't see much), and brought to a close my idolisation of, principally, his lyrics (since the next few years saw a marked decline in his songwriting abilities, in my  personal opinion).
In the early seventies I first travelled to India to investigate a Spiritual Science I had heard about, and meet the 'Man' who was to become my distant Guru. It caused my interest in popular music to wane for a good few years, though it has returned with a vengeance in recent decades. The first and second trips there were massive adventures, but probably far too personal for the pages of this journal, so I will reserve my right to keep schtum where those events are concerned.
The hackneyed saying is that if you remember the sixties, you weren't actually there. Well, my memories filter through the haze of Mary Jane, fortunately, and are still vivid enough; and, as time goes by, I realise more-and-more how fortunate I was to have experienced them. I hope you found some enjoyment from my sharing them with you. I can assure you I have neither added nor subtracted a single comma from the truth of the narrative. It was just so.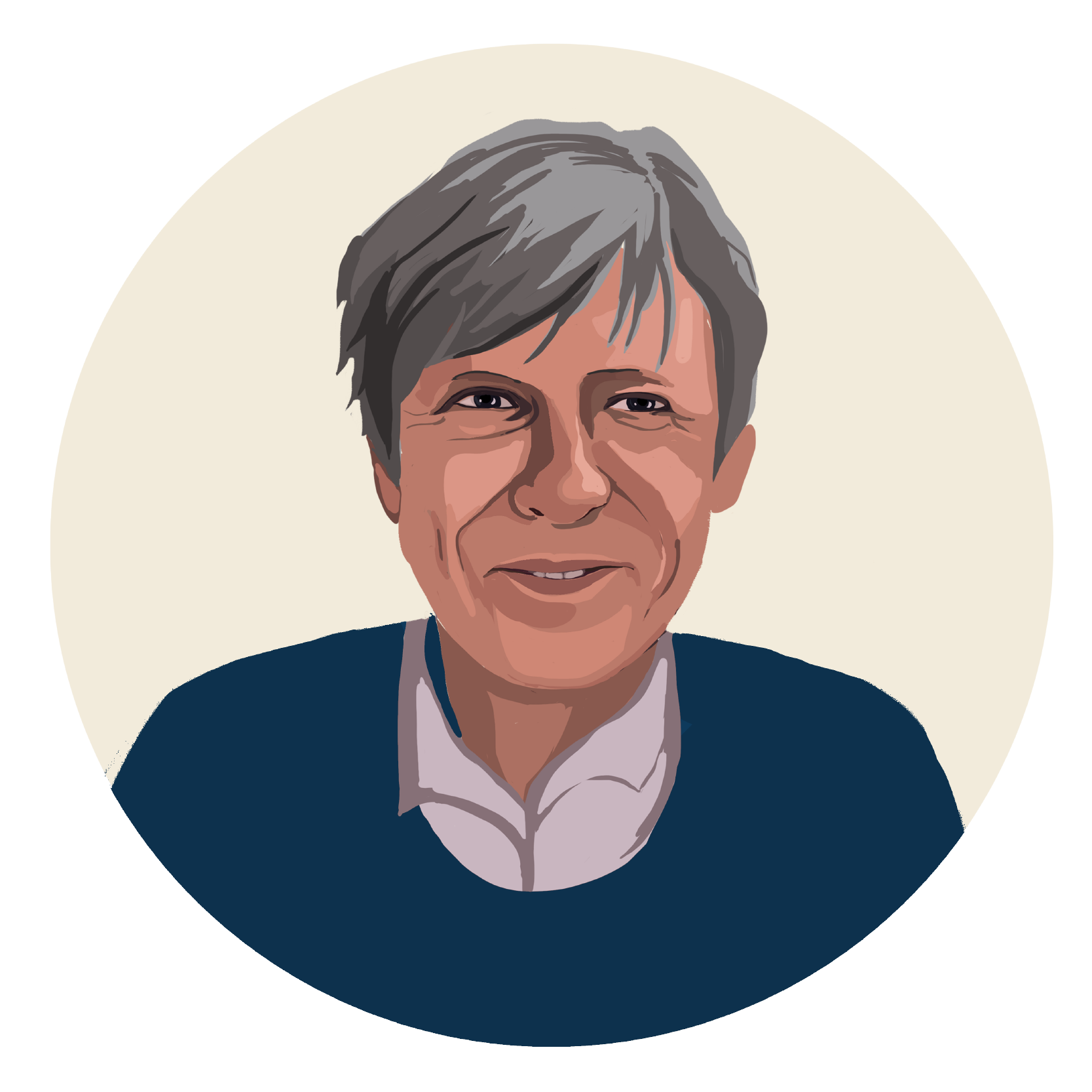 David Ward is a British peer. He is the author of the musical 'Galileo' and has recorded numerous albums over the decades.