Nida's visual art doesn't just genre-bend. It ignores genres altogether. In a self-portrait, she dons sunglasses and sips from a psychedelic, holographic bottle oozing riotous colours. The message printed on her sunglasses? "Unbothered". A single-word manifesto that encapsulates her approach to life and art, and certainly a sentiment we could all do with, from time to time. Nida splices self-portraits with bursts of ethereality, as a delicate pastel jellyfish bursts out of a suited woman's head, and a butterfly flies out of her eye. The visual artist's distortions of reality are jarring, designed to urge viewers to question the familiar.
The collective fear of fusing with our screens as lockdowns inch on is reflected in "ERR_REALITY_NOT_INCLUDED". A dazzling array of neons imprint themselves on the artist's face. "Relax", a double-helixed message says, blinking on the screen, and we do. Nida manipulates digital illustration, photography, and a stunning variety of techniques to create pieces that invite you into a striking yet cohesive landscape. Nida knows what to do with isolation and its attendant misery: let it sink into you, she says, and trust yourself. Transfixed in her powerful world—where a woman's clothes set a rainy street on fire, and crosses are lit like matchsticks—such a thing feels possible. Beauty, too, is ubiquitous for Nida, and her art blooms in quotidian moments like a self-portrait in the shower, captioned "God, you're fucking blurry."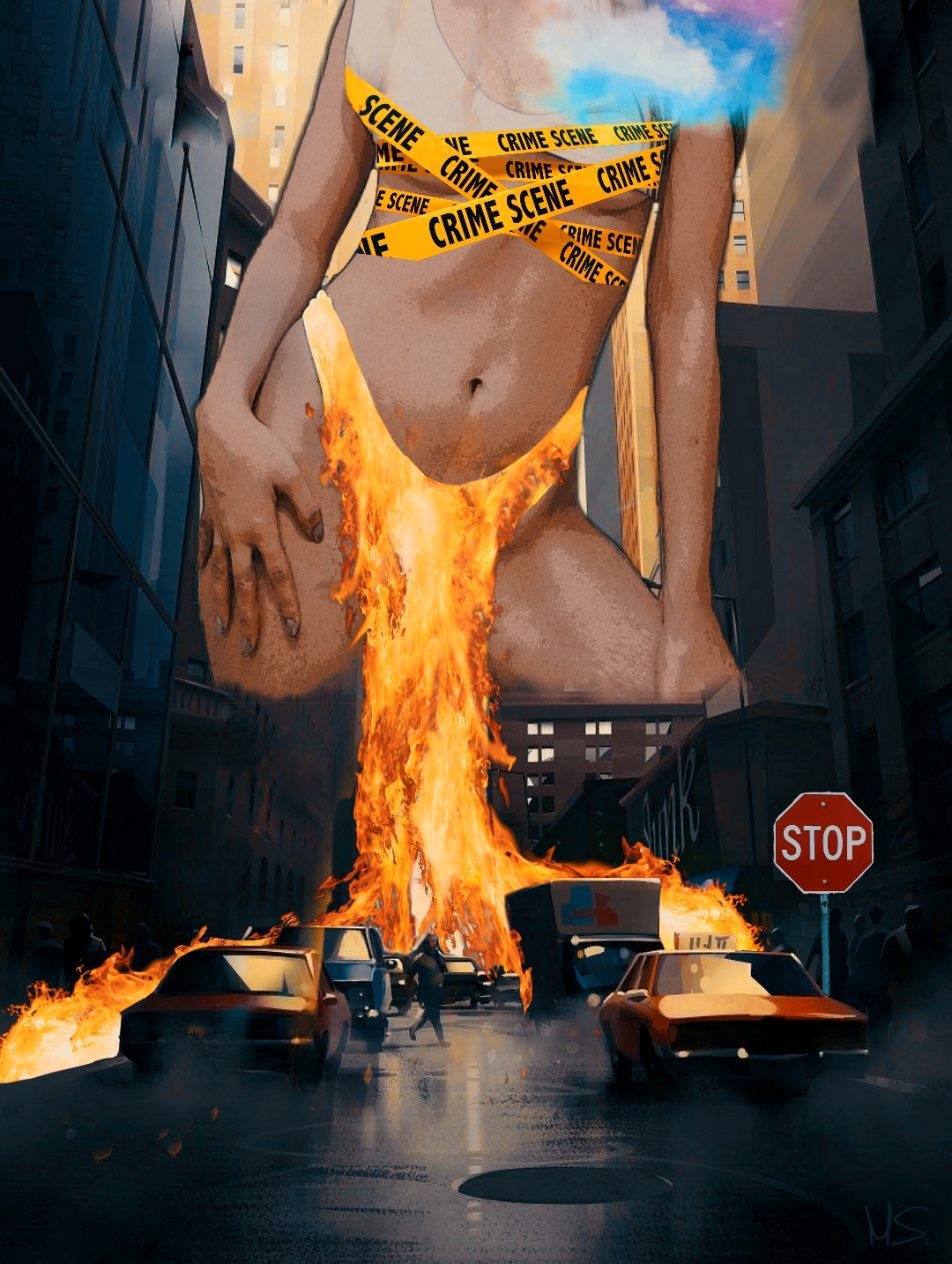 In conversation with Nida
What is creating art like for you? Do you have a clear image of what you want before you shoot/edit, or do ideas develop during these processes?
Art is like leaving a bottled message on a deserted shore, hoping it's read, and sent back to you with the answers you've been looking for.
I create art by just going with the ebbs and flows. I love challenging, confronting and questioning myself.  Art can be frustrating and rewarding, all at the same time. I often experience art blocks and I'm fine with them, because I believe everybody and everything needs their own space and time. If it's not meant to be, it won't be. We can never force art. I let my imagination go where my brain likes to take it—whenever and wherever it calls. As a model, I have always kept folders stocked with pictures. When I feel like a picture does not fit my mood-board, I start to play with it. At times, ideas grow organically after shoots—I get a simple thought, open my gallery, pick a picture, and then things start to happen.
A lot of your work has a really strong semi-surrealist style. What inspires you to create these pieces?
I think I have no precise answer about what inspires me. I try to make my art look as surrealist and detailed as I can, but I also like to keep it a little raw. Too much perfection ruins it for me. I like playing with hues, which gives the piece an aesthetic vibe. I think most of my art is really ironic. I love adding irony into art to express emotions, perspectives shaped by my experiences, or my culture and beliefs. Often, looking at something random can stock my mind with ideas. Inspiration is like a universe within us: it's hard to understand. It can be a child sleeping on the side of the road, wrapped up in a mosquito net, or cigarette smoke dissolving into the air. It can be a stray dog waiting outside the mall for hours. Or a clock ticking, river flowing, the universe, stars, or simply energy.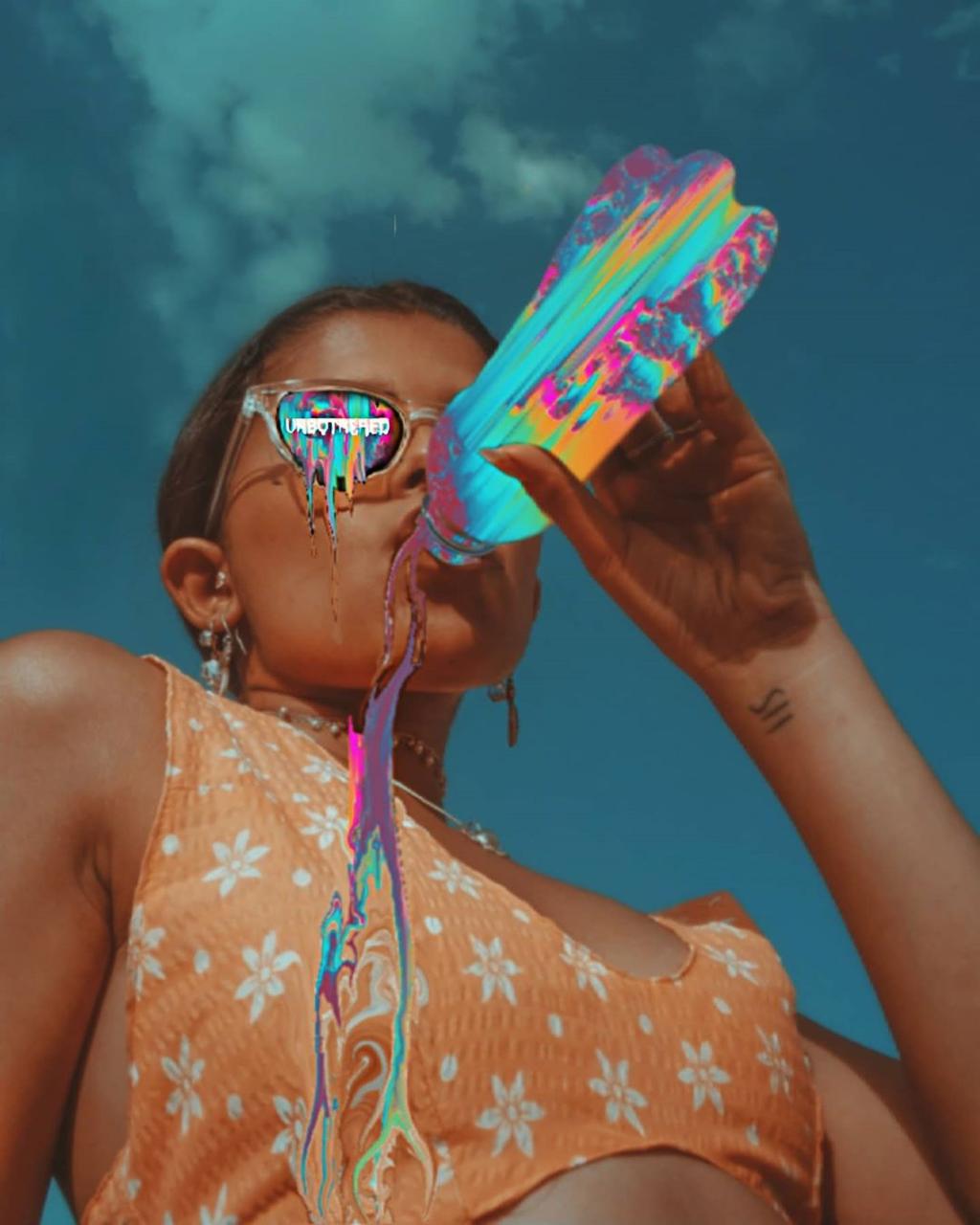 What draws you to the self-portrait as a form?
It's a matter of convenience, because I am always available. However, in some ways self-portraiture to me is like freedom. I can be exactly who I want to be, without worrying about anyone or anything. I can go on for hours—clicking pictures, experimenting with my expressions, clothes, or pose.
Everything that I look at inspires an image, a message that draws me into creating something powerful and surprising.  Different interpretations and perspectives of my art really excite me. Sometimes, when I ask my mother to look at what I've made, she has a completely different outlook, which compels me to think more, too. Moreover, music has also been one of my greatest inspirations; it's a different kind of high.
What was your first encounter with art? How did you start making art?
Art has been the only way to run away without leaving home. My childhood didn't consist of everyday activities like riding a bicycle or going out to play. As a child, I had trouble with my father—because of a few mistakes I made as a teenager, he was overly restrictive with me. My sister and I were indoors  for long periods of time. We began to realise that we both had a common need to create. That's when we started making pictures and falling in love with our art. While I painted or listened to music, she'd take photographs of anything and everything. I was the opposite—cameras made me conscious of my body, mainly my smile and my hair. Now, I'm grateful for the ugliness that life bestowed upon me; all the people who told me what the norm was, so that I could break it. I created a site of beauty from ugliness and proved that there is always potential for a haven, even in the smallest of boxes. That is what my art is.
You use many different techniques, like photography, digital art, and photo manipulation. How do you combine these different mediums in the same piece to express distinctive themes?
It's been a year since I began flirting with photo manipulation. My go-to tool is often "PICSART"; it's really very convenient. I enjoy using the 'liquify' feature to create backgrounds and small cut-outs from stock images, and assemble them together to make a picture. It's pretty easy, I'd say.
I've always been so fascinated by the way a piece comes out to be, it's very exciting. I just keep going with the flow and exploring. Just like when you paint, you let your brain and brush do the work and wait for everything to eventually fall in place. I am still learning and discovering new forms—on my own, or through the work of other artists.
Has your creativity been affected by the lockdown?
The lockdown has enhanced my creative process and output. I used to work at a nine-to-eight job in retail, which was very hectic. This period has helped me slow down and get back on track. I watched sunsets, discovered new music, and found the peace of mind that has helped me create some of my favourite art. I found time to sit back and brood—about life, about what I want to create, and how I want to create. I've never felt so connected to what I love.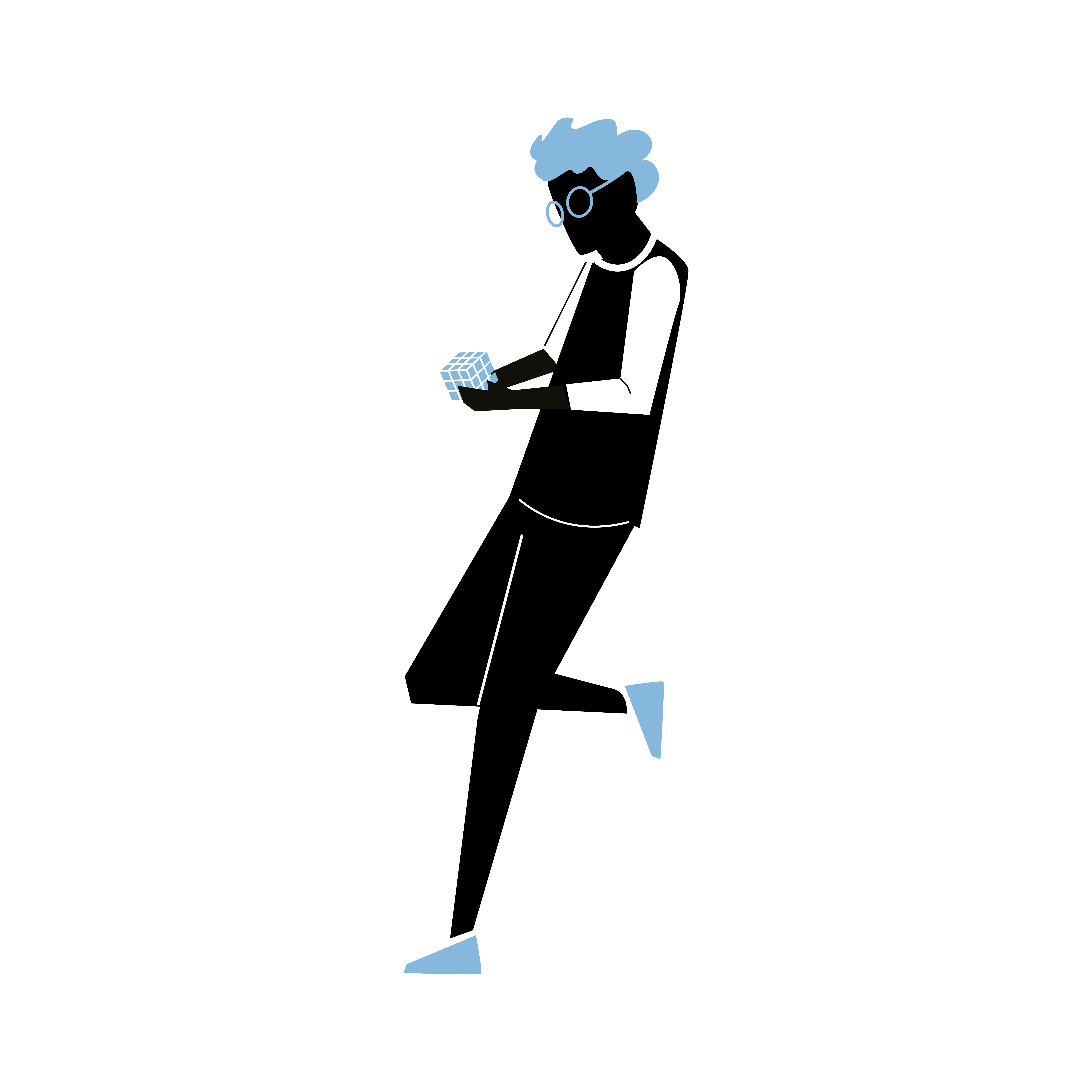 Our mascot writes all ALMA Staff pieces. ORI is whimsical and unpredictable; we've tried being friends with him and failed.